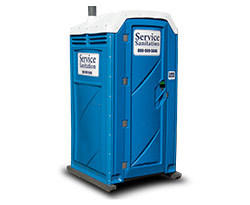 Basic (Toilet & urinal)
Actual Size: 47" X 43.5" X 91"




This is a basic porta potty you'll find at most construction sites. It includes both a sit-down toilet (non-flush) and a urinal. It will be stocked with toilet paper.
Illiana Party Rentals has teamed up with
Service Sanitation
to help provide our customers with clean, safe porta potties delivered to your event with the same care and attention that's expected of our own employees. Every porta potty is delivered and serviced by
Service Santiation
the day before your event. It will then be picked up one or two days after your event depending on workload and weather conditions.
NOTE: All porta potties are subject to availability from Service Sanitation. We / they require a minimum of 2 WEEKS NOTICE for all of their items.
Jumpin Wheelies is your NWI Party Rental Company. Unique, safe, sanitary inflatable bounce houses and party rental equipment is our speciality. We are safety certified and insured because safety is our TOP priority. Serving Dyer, St. John, Cedar Lake, Crown Point, Schererville, Lowell, Merrillville, Hammond, Crete, Lynwood, Lansing, Glenwood, Olympia Fields, Beecher and many more locations.
OTHER CITIES WE SERVICE:
CEDAR LAKE, CROWN POINT, DYER, GRIFFITH, HAMMOND, HEBRON, HIGHLAND, HOBART, LAKE STATION, LOWELL, MERRILLVILLE, MUNSTER, PORTAGE, SCHERERVILLE, ST. JOHN, WINFIELD