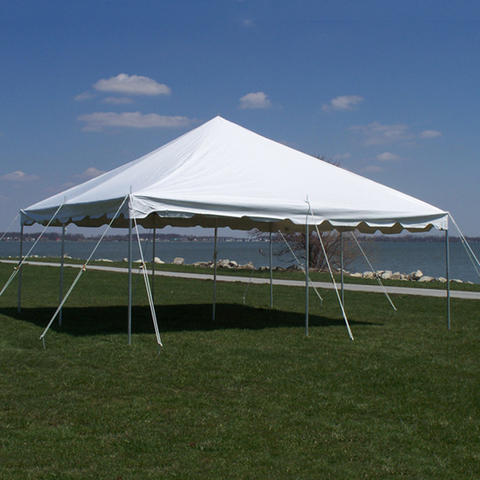 Setup area: 30 X 30
Actual Size: 20 X 20
This 20 X 20 tent is a favorite for budget-minded families that need extra entertainment space. This tent is 20 X 20 and supported by 8 perimeter poles and one center pole. This tent MUST be installed on grass because it needs to be attached to the ground in several points. You will be provided all the necessary poles, stakes, ropes / ratchets, and top(s) as well as detailed assembly instructions. This tent accomodates up to 6 - 8' banquet tables and 50 chairs or 4 - 5' round tables and up to 32 chairs.

NOTE: This tent is delivered to your property. YOU must install and tear down the tent. We will deliver the tent the day before the event and pick everything up the day after the event.

Don't forget to order your tables and chairs from us, too!